Color diamonds are incredibly rare in Nature. So few are their numbers and their prices so high that any new and affordable opportunity to include color diamonds in our jewellery is an exciting prospect.

Currently New Age Diamonds offers gems in three colors: light sparkling green, deep pomegranate red and various tints of yellow from light canary to vivid orange. These color diamonds retain all the head-turning radiance, lustre and brilliance that belong to natural diamonds.

Our Cultivated color diamonds do not fade and continue to blaze their magnificent fire throughout the years.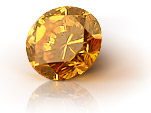 Vivid yellow Light sparkling green Deep pomegranate red


Cut — all New Age Diamonds loose stones are cut and polished in accordance with high industry standards. The cuts are carefully chosen for every diamond by our specialists in order to bring forward the best qualities of each crystal. The cuts offered by New Age Diamonds are: round, princess, emerald. All other cuts are available on request.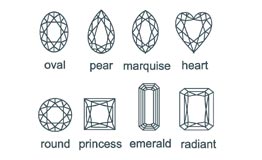 Clarity — is one of the characteristics that are applied when discussing the quality of a diamond. While Fl (flawless) is the best on the grading scale, they are extremely rare.

Similar to a naturally grown diamond, a lab grown crystal may have inclusions, because an absolutely pure diamond without any defects is mostly a theoretical concept rather than natural phenomena. Cultivated diamonds grown in the Labs of New Age Diamonds are graded (on average) between I, SI and VS scale.

I — Included: contain some inclusions that can be seen by the naked eye but they are so small and tiny that it can be easily hidden in finished jewellery. The cost of such stones is traditionally much lower, which still makes them very appealing.

SI — Slightly Included: contain some small inclusions that are slightly more noticeable under 10x magnification but still can't affect brilliance and transparency of the stone.

VS — Very Slightly Included. Inclusions or flaws are hardly seen under 10x magnification loop.

Carat — currently New Age Diamonds offers crystals in the range of 0.10—2.5 Carat. Larger size stones will be available soon.


Read more